Two kinds of Indian in one day
25.12.2009 - 25.12.2009
2 °C

'An Eagle Ceremony At Tesuque Pueblo' by Gustav Baumann, 1932
A few days before Christmas my friend Paul, a videojournalist from Dublin, commented that if I had been told a year ago that in 12 months' time I would be married and living in America, I would have laughed.
To this quite true observation I added the fact that on that day last year, I was getting ready to take my then girlfriend, now wife Megan to an Irish family Christmas in Rathfarnham, Dublin. A year later and I was getting ready to celebrate Christmas Day at a dance and feast day at a Native American Pueblo!
And so it was, very enjoyably so indeed. Myself, Megan and my mother-in-law Patricia glided up a near-empty Interstate 25 past the snow-dusted Sandias from Albuquerque to Santa Fe. By the time we got there, notwithstanding our final destination of a feast, we were already in need of some lunch.
As our server noted on our way out, it was the only restaurant aside from fast food and Starbucks that was open in Santa Fe on Christmas Day. The funny part was that it was an Indian restaurant - as in New Delhi, Calcutta and Mother Teresa. While the buffet lunch was delicious, the stop was especially worth it for the even more delicious double entendre!
Suitably stuffed, we trailed down the 285 past some spectacular snowy scenes to Tesuque Pueblo. We first met some very helpful Tribal Police who guided us to our hosts. There we found an adobe dwelling that was just like any other American home on the inside.
We were treated to some tasty posole and other local treats too spicy for this writer, as well as some more familiar turkey. Five minutes later, and we were joined by the same two policemen, who sat down to eat and were quite fascinated to be in the company of an Irishman! We traded questions about international and Native American cultures in a very friendly and equitable exchange - what could be more in the spirit of Christmas!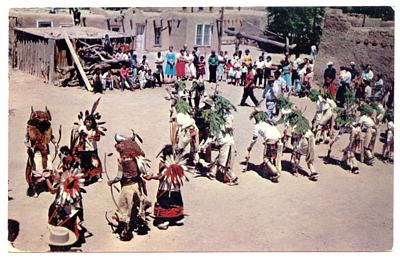 The dance we saw was the Deer Dance - as represented by the figures on the right of this old postcard (credit). While it was brief, we were quiet glad to get in out of the sub-zero temperatures. The only drawback of the day was not being able to visit the church within the square of the pueblo - innocently, it was just closing, but perhaps it was not a great omen for Christmas Day!
Our trip was bookended by two more conventional celebrations that combined with Christmas Day to create a very enjoyable holiday season - drinks in at our new place on Christmas Eve with our friend William, and food with family for what I still know as St Stephen's Day at Megan's aunt Jane's house.
So until we meet again in the new decade, dear readers, consider that the Christmas spirit can be found and enjoyed in the most unexpected of places. Happy New Year from New Mexico!
Posted by BillLehane 17:18 Archived in USA Tagged postcards Comments (3)